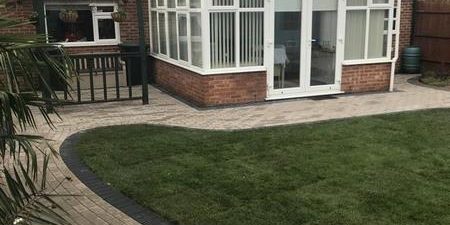 For this project, we were asked to remove an old patio and a concrete pathway that wasn't level, wasn't stable and definitely was safe to walk on. We was to replace it with a lovely new patio and pathways made from block paving. We was also asked to dig up the old turf and replace it with new turf.
We could then lay the charcoal coloured block paving around the garden. These were used to create the boarder in a tasteful curved S-bend creating a pathway that went around the garden but not to the edge of the garden. We then filled the rest of the area with grey block paving which created a small patio. In between the borders we laid the new turf. To one side of the garden, there was soil with bushes in that the clients wanted to keep so we made this look more presentable by tidying it up.
Once again our customer from Nelson, Lancashire was very satisfied with the work we completed.