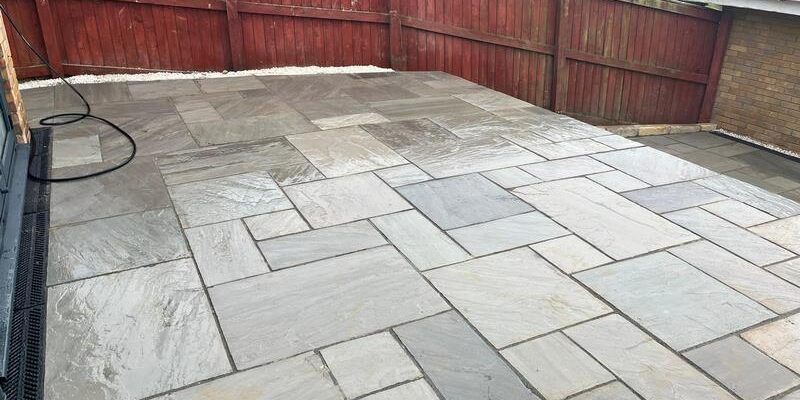 Garden Patio Project in Burnley
Installing a wooden deck is certainly an excellent way to compliment the existing appearance of your property. The only possible issue is that natural wood is susceptible to the elements. It can become worn and damaged over time; leading to costly repairs and even an entire replacement. The team at Meadow Drives and Patios was recently contacted to assess the condition of a garden deck that had certainly seen better days.
After a careful examination and following a thorough consultation with the homeowner, it was agreed that an aesthetic change was in order. We ultimately decided to replace the entire deck and porch with a raised patio. What steps were involved and what was the final result?
A Bit of Traditional Elbow Grease
While modern technology has come a long way in recent times, it has yet to fully replace hands-on labour and a bit of manual effort. Both were involved during the initial removal process, as the entire deck and supporting structure had to be disassembled.
Furthermore, nearby debris needed to be removed before the surrounding area could be levelled. These preparatory steps should never be overlooked, as they will ultimately impact the outcome of the finished project as well as the durability of the patio itself. Once we had sufficiently cleared the area, the more precise work could begin.
Creating the Raised Patio
There are many materials which can be employed when creating a back garden patio. Common examples include asphalt, imprinted concrete and block paving stones. While each of these surfaces boasts its own unique benefits, it was decided that larger block paving slabs made of sandstone should be utilised. These provide a flat and uniform appearance while still imbuing the area with a sense of visual dimension due to their unique shapes and dimensions.
However, this project was slightly unique in regard to the design specifications. One patio needed to be raised to the previous height of the wooden deck. This required the creation of an artificial berm. The surface of the berm was thereafter compacted and flattened; providing a solid foundation for the subsequent paving slabs. A solid stone border was also installed around the outside of the patio to provide additional support as well as a nice aesthetic touch.
Addressing Surrounding Areas
Interestingly enough, the raised patio was only one portion of the total project. It was also decided that these very same sandstone paving slabs should extend into the back garden and around the periphery of the house. The inclusion of a stone ramp on one side of the raised patio was an additional feature; a particular benefit in terms of visitors who might suffer from mobility issues. Ultimately, here are some of the main benefits associated with this project:
Natural sandstone comes in a variety of tones and grains; providing the patio with a unique appearance.
The geometric patterns of these slabs added a bespoke sense of visual depth.
The raised patio will last for decades if cared for properly.
As sandstone is naturally porous, it allows a certain amount of water to penetrate
into the subsoil; helping to avoid drainage issues.
Sandstone is easy to clean and maintain.
Note that this is only one example of the feats which the team at Meadow Drives and Patios is able to accomplish. If you want to learn more about your options, please contact a project manager. We can then schedule a hassle-free appointment at a convenient time.