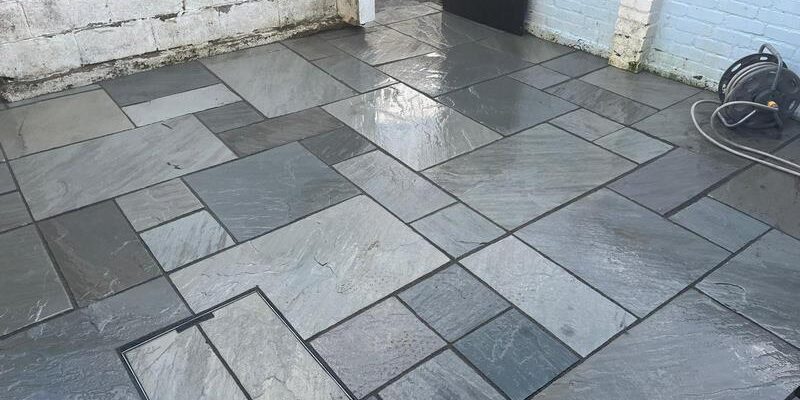 Small Back Garden Patio Project
Sometimes the best of things come in the smallest of packages. This is undoubtedly true when referring to any garden. It is not the size of the area, but rather the work that is accomplished within its confines. Although the team at Meadow Drives and Patios is more than capable of tackling extremely massive projects, our prowess equally extends to one-off tasks that require a bit of tender loving care.
One recent undertaking has served to cement this point even further. We were asked to transform the appearance of a back garden from unkempt to utterly amazing and of course, we were very pleased with the final outcome. Let's examine what was involved as well as how the entire area was reconstructed in a short period of time.
A Patio that Had Seen Better Days
Even the most well-designed patios will not last forever. Brick, mortar and stone will naturally succumb to the elements over time and unfortunately, this often calls for an entire facelift. The client initially contacted us for these very same reasons and after a thorough on-site evaluation, it was determined that the existing patio needed to be replaced.
The existing concrete slabs were quite worn down, cracks had formed over time and weeds were present where mortar had once been. It was therefore clear that more than a cosmetic facelift was required. After further consulting with the customer, it was decided that block paving slabs would represent the most logical solution. What are some benefits of these surfaces and why have they become so popular?
The Use of Block Paving Slabs
Block paving slabs are all-natural stones which have been cut to specific dimensions. Common materials include slate and sandstone due to the fact that they are relatively porous when compared to other substances.
Furthermore, they are both easy to cut and manipulate. This allows our team to provide slabs of various dimensions. The installation process is relatively straightforward and once cemented in place, these hard-wearing surfaces can last for decades at a time with only a minimal amount of required maintenance.
Furthermore, block paving slabs offer a natural beauty that would be difficult to accomplish when using other materials such as tarmac or concrete. Unique patterns can likewise be created and these stones will often help to accentuate the exterior appearance of a home; adding value to the entire property. These are some of the reasons why our client was initially attracted to block paving slabs.
The Finished Product
Once the old material was removed, our team levelled the subsurface. This provided the patio with a firm and level base (cracks and drainage issues may otherwise come to light). The stones themselves were then laid in place using a random geometric pattern based off of their dimensions and sizes. This flavoured the patio with its own unique sense of personality and helped to avoid the "cookie-cutter" appearance of more generic patio surfaces.
Mortar was then placed within the joints between the slabs; providing a waterproof barrier while still enabling each stone to slightly expand and contract in accordance with outside conditions. After the installation of a central access panel and once the surface was wiped clean, the entire appearance of the patio had been transformed into a veritable work of art.
Although quite smaller than some of the other projects that have been tackled by the team at Meadow Drives and Patios in the past, customer satisfaction is always based off of quality as opposed to quantity. The client was quite pleased with the end result and once again, our professionals had been able to rise to the occasion. Might your home benefit from a similar approach?
Perhaps you would like to learn more about our other gardening and landscaping services. If so, please contact one of our representatives. We will be happy to schedule an on-site consultation at your convenience.