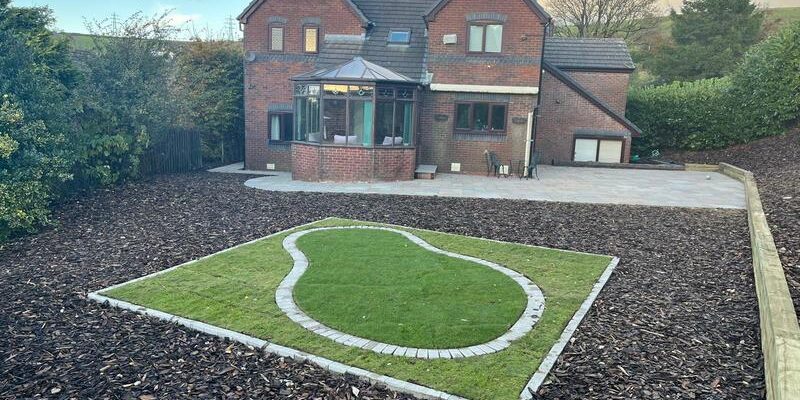 We employ several methods when creating bespoke patios; many of these providing unique aesthetic touches so that they will stand out from more generic designs. In this instance, the customer desired a central grassy area within the garden itself (similar in appearance to a miniature golf course). This element was then bordered by hand-laid block paving stones.
To address drainage concerns as well as to boast an organic appeal, we covered a significant portion of the back garden with mulch. This mulch was thereafter complimented with flat block paving slabs cut to different dimensions. Not only were these stones utilised to create a large patio, but they served as a walkway around the periphery of the home.
No Job Too Large…
This project was unique due to its sheer surface area. We therefore chose to use automated machinery alongside traditional labour in order to ensure superior levels of efficiency. Some initial stages included:
Surveying the area
Removing all existing debris
Grading the land
Ensuring that the subsurface was level
Due to the slope of the property, a series of short wooden retaining walls was likewise required; helping to prevent future soil erosion.