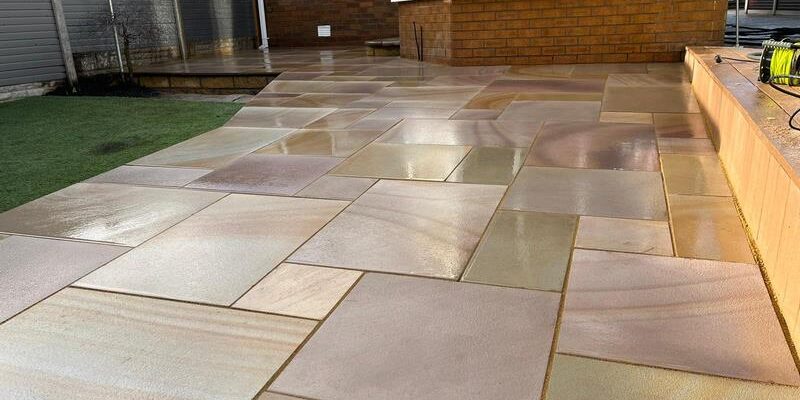 Sandstone Block Paving in Accrington
There are times when even the most attractive driveways will require a profound facelift. The team at Meadow Drives and Patios is normally accustomed to tackling major overhauls due to patios that have suffered a significant amount of wear and tear over time. However, a recent project in Accrington was slightly different.
The existing patio was in relatively good shape. It was outfitted with block paving stones set in a herringbone pattern and it was rather beautiful to behold. A bit of change was nonetheless in order and as always, our team was there to assist. Let's take a quick look at what this project entailed as well as what we were able to accomplish within a short period of time.
Preparation and Planning
Any type of exterior renovation will require a fair amount of foresight. This is also the best way to avoid problems in the future. Meadow Drives and Patios, therefore, began by scheduling an in-depth consultation with the Accrington property owner. We were able to understand the requirements of the project as well as what type of work would be necessary.
We were able to provide an accurate and transparent quotation while ensuring that the new patio surface would be completed within an amenable time frame. Once these fundamental concerns were addressed, the real work could begin. Why did we opt to employ sandstone slabs and what advantages do these materials have to offer?
Why Choose Sandstone Slabs?
While Meadow Drives and Patios are able to work with a variety of paving materials, sandstone has proven to be a perennial favourite. There are several reasons why this type of stone is so popular. Perhaps the most relevant involves the aesthetic appeal that sandstone provides. As no two slabs are alike, it is possible to imbue every surface with its own unique personality. The contrasting tones and grains will also provide a sense of dimension to what might otherwise appear to represent nothing more than a flat surface.
Some other advantages which can be attributed to this material include:
Sandstone is a sustainable and environmentally friendly material.
Its semi-porous nature can help to avoid issues with pooling water during inclement weather.
Sandstone is relatively easy to cut and therefore, the installation process is straightforward.
When cared for properly, this type of sedimentary stone can last for decades at a time.
Not only will sandstone patios provide a bespoke visual appeal, but they offer customers a healthy return-on-investment and they will inevitably add value to the property itself.
The End Result
The sandstone block paving slabs employed throughout this project transformed the entire appearance of the existing patio and therefore, the home itself. Thanks to their uniformly flat surfaces, a seamless appeal was achieved and these slabs perfectly complimented the nearby brick walls.
When we then take into account smaller elements such as the inclusion of curved entrance steps and a decidedly jigsaw-like appearance, it is clear to understand why our Accrington customer was pleased with the outcome.
The professionals at Meadow Drives and Patios are proud to offer sandstone as one of our many surfacing options. From driveways and patios to walkways and general landscaping, we leave nothing to chance in terms of quality. If you would like to learn more or to schedule a hands-on consultation, please contact us. The patio of your dreams is much closer than you may think!