Here is the sort of enquiries we routinely receive for Lancashire groundwork projects like block paving, patios, landscaping and resin that we are delighted to receive and even if you simply ask 'im not sure what I want but please come and give advise' or you give us a fully detailed plan we can work with you to give you a competitive quote that you will hopefully accept and let us work on your Lancashire property.
Really like the look of a recent Indian Sandstone Patio that you laid for a friend so am looking at having approximately 30m2 of Indian sandstone laid at my property in Burnley. Was looking to see if this would be something you would be interested in quoting for?
I'm looking for someone who could extend my block paved driveway, we are in Accrington, please can you come and quote today?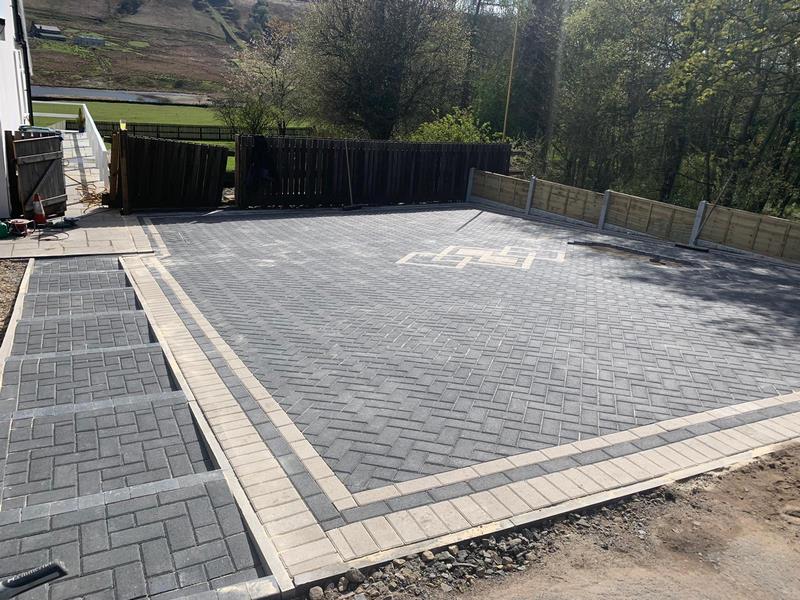 Just reaching out to discuss timing of my driveway project, the areas to be bricked are linked but separate. The Kitchen garden area is now free and available to be worked on, however, the pool and area is still being worked on by the minatenace team and they are likely to require another 2-3 weeks before they have finished.
From my side I am happy for you to start when you can fit us in. Whether this means you work on the kitchen garden and as much as you can around the pool and then come back to finish once they have competed the pool renovations or you would prefer to wait. Not sure how much time you need to do each area, perhaps you can give me a sense on how long you will need and how you think best to approach it. We are obviously hoping to get the work completed as soon as possible.
Looking for a quote and timescale to have a new patio for my Bolton garden, including a retaining wall and levelling of approx 60m2. Overall paving of Approx 265m2 and 7 manhole covers with recessed trays.
I want a Resin bound driveway.Please could someone contact me so that you can provide a quote for my house in Hebden Bridge. Thank you
I am looking for a company to provide a price to repair a section of damaged Tarmac in our playground. If you are able to help please get in touch? The area affected and to be repaired is 50m2 at a 30mm thickness. Photos can be attached of the tarmac Drive which is in Accrington
Large driveway would like resin bound. The ground would need to be levelled too.
I am looking for a quotation for resin bound driveway based in Bury.
Please can you give us a quote for the work required on our Lancashire house that we will be moving into next week (Preston Property)
1 timber framed gazebo pressure treeted timber on posts 4/4 sitting on galvanised feet raised above paving, aprox 3m by 3m, with green shingle roof tiles
2 paving to same area with 3 or 4 different sizes 5m by 5m wide crossing to right of garden to fence path 1m wide to a small seating area, seating to be supplied by me.
3 front garden where it meets pathway dig out lay hard mix gravel to form base for timber sleepers aprox 240x 220 to form wall. build step 300 mil deep by 1500 wide at existing grass level
will be 180 mil high with 3 courses of brick .Form new pathway to gazebo paved area by 1m wide , this will run to left side of gazebo and continue to rear gate,
4 all path and hard standing will be edge with pavers light grey running horizontal to path walkway from back gate dig out form walkway in steps with brick courses on top of slabs supplied by me on site, ground to be flattened and leveled to left side of garden where needed
5 ground dug out in places marked by me for 3 trees at later date with form circular cutouts in grass,
6 ground will have a minimum of 100mm of soil under grass
7 all flower beds will be marked on site and laid with top soil mixed compost
8 all hard standing areas will be level with grass laid for lawn
Would like some electrical work low level in beds around garden plus lighting to gazebo mainly for security reasons,
understand this would be at extra cost but need this at same time could you arrange this in works, believe you can do planting of small shrubs and borders should be bark covered
We are looking for a quote to have our driveway redone and a dropped curb put in (if you do that?). Do you prefer to come and have a look and chat or do you give a rough quote over email/phone? We would appreciate some advice on which 'look' to go for as we are thinking of concrete but not sure on colour/style.
Looking for a quote for a patio (non-slip) light grey (not sure what it's made of similar to what you have on a lodge
You came to our road on Saturday to see the tree stump for removal and also the tarmac work. You were going to give us a quote but I have not seen anything yet. I know you are busy but we would appreciate getting the quotes we asked you for as soon as possible.
We would like Victorian style paving for the patio to blend in with an existing Victorian pathway.
I need a concrete base 12ft x 12ft for a summerhouse to be laid in garden