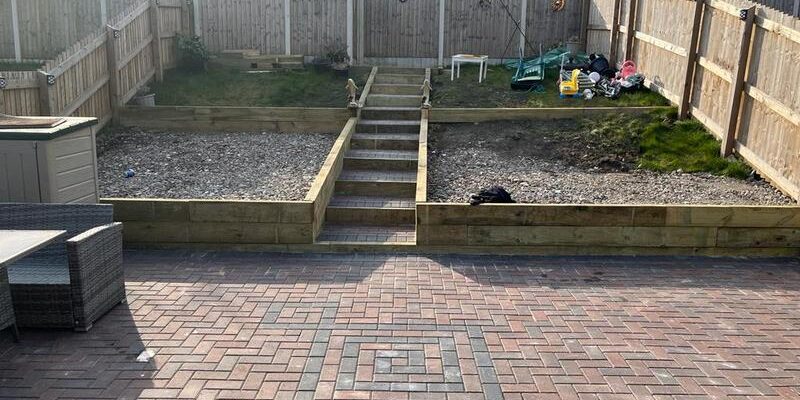 From Drab to Demure: A Back Garden Landscaping Transformation
Meadow Drives and Patios has been providing quality services to countless Lancashire customers over the years. This is partially due to the fact that we are capable of tackling a wide variety of projects. Examples include (but are not limited to) fencing, decking, driveways, walkways, and imprinted concrete. However, we also consider landscaping to represent the "bread and butter" of our firm. This observation can clearly be seen in a recent back garden that we transformed into a veritable work of art. Let's take a closer look at what this project involved as well as the final outcome.
A Terrace with a Twist
There are times when some tasks are more difficult than others. This often involves the state of the garden as well as unique elements such as the terrain. In this instance, the garden was set at an incline and the land sloped downwards towards the house. The homeowner was interested to learn about the ways in which this garden could be transformed into a visually pleasing area while ensuring that drainage did not present an issue.
After arriving at the property and performing an in-depth consultation, our team decided that a series of terraces and a stepped walkway represented the most viable solutions. This would also provide the garden with a much-needed facelift within a short period of time.
Preparation
The success of any landscaping project is heavily influenced by the amount of preparation that takes place. Thus, the team at Meadow Drives and Patios first removed the existing natural grass before levelling the incline in a series of "steps". These steps would eventually be transformed into terraces.
A large portion of the garden was also designated to become a patio, so we made certain that this area was flat, level and compacted. This is extremely important, as uneven ground can lead to subsidence and similar issues after the surface of the patio is installed. Thankfully, the dimensions of this garden ensured that these preparatory steps were completed in a timely fashion.
The Use of Block Paving Stones
The centrepiece of the garden came in the form of a patio outfitted with block paving stones. Block paving stones are unique in the fact that they can be laid in a kaleidoscope of stunning and eye-catching configurations. In this case, we chose to employ a series of geometric patterns as well as bricks of different hues. This approach imbued the patio with a sense of depth and helped to break up the existing visual space.
As an added touch, we created a darker brick border around the periphery of the patio and installed a drainage channel. Not only did this add the finishing touches to the surface, but it provided the garden and the patio with a decidedly functional edge.
A Terraced Landscape
The use of terraces also featured prominently throughout this project. As opposed to completely levelling the garden, a terraced configuration enabled us to make the most out of the existing landscape. This was also a great solution due to the fact that we added a stone walkway which tied the patio and terraces together. Such an approach helped to provide an aesthetic sense of balance to the entire area.
A Mesmerising Final Outcome
The results of this project once again illustrate how the professionals at Meadow Drives and Patios take a great deal of pride in their work. Are you less than satisfied with the current appearance of your garden? Perhaps you live on sloping land and you have been experiencing drainage problems. These are only two of the numerous scenarios which our team will be more than happy to address. Please take a few moments to contact us at a convenient time. Stunning solutions are literally only a phone call away.