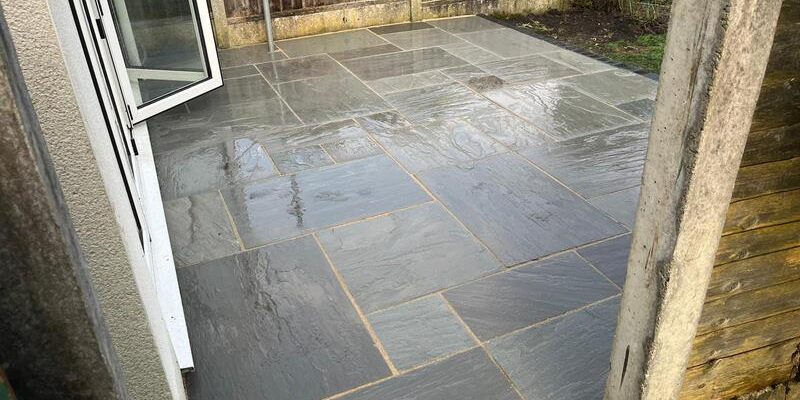 Rear Patio in Whitefield
There are several elements which can serve to define a modern garden. While landscaping and shrubbery will obviously have a massive impact, patios are some of the most attractive and functional features to consider. The good news is that these surfaces can be installed even if space is at a premium. A recently completed project in Whitefield clearly illustrates this approach. What steps did the team at Meadow Drives and Patios take? Did the final outcome exceed the expectations of the homeowner? Let's examine each of these questions in a bit more detail.
The Existing Garden
This garden was rather small when compared to some of our other projects. However, it still required a second-to-none attention to detail in order to ensure an amenable outcome. We therefore made it a point to discuss the various options with a homeowner. This approach enables us to appreciate personal tastes as well as to ensure a transparent working relationship from the very beginning. It was eventually decided that the use of block paving slabs was the most logical solution in terms of functionality and aesthetics. This was also when the real work began.
Preparation is the Key to Success
The first step was to remove an existing patio that had been in place for some time. It was considerably damaged cracked; requiring a bit of manual labour in terms of the removal process.
Once this surface was addressed, we then needed to level the ground where the new patio would be placed. Levelling is crucial in terms of drainage and stability; guaranteeing that the paving slabs will remain in place for years at a time while requiring only a minimal amount of maintenance.
The Use of Paving Slabs
There are several advantages associated with block paving slabs when creating a patio from scratch. The most obvious is the appearance of natural substances such as slate and sandstone. As no two slabs are ever alike, each patio boats an entirely singular beauty, Furthermore, these types of stones are extremely durable and capable of withstanding the harsh elements which can frequent the Whitestone area from time to time.
These stones can also be cut to different sizes in order to create unique patterns. Another interesting characteristic of many paving slabs is that they allow water to permeate into the ground below to a certain degree. This helps to prevent drainage problems such as pooling water and erosion. On a final note, we decided to create a slightly raised platform when designing this patio to guarantee that water would not accumulate even during times of heavy rain.
The Finished Product
Although the experts at Meadow Drives and Patios boast years of industry experience, we are always amazed with the final outcome of such a project. Of course, the homeowner was extremely pleased with the appearance of this new patio. It was also convenient due to the fact that the patio was connected to a series of sliding doors. It can therefore be used to host family dinners or simply to soak up the sun during the warmer times of the year.
Please note that this is only one of the services that we offer to customers throughout Lancashire and the surrounding areas. Other options include:
Brickwork
Imprinted concrete
Fencing
General landscaping
Driveways
Decking
Artificial grass
Would you like to schedule a no-obligation consultation? If so, take a moment to speak with us directly. We are happy to provide targeted and professional solutions.