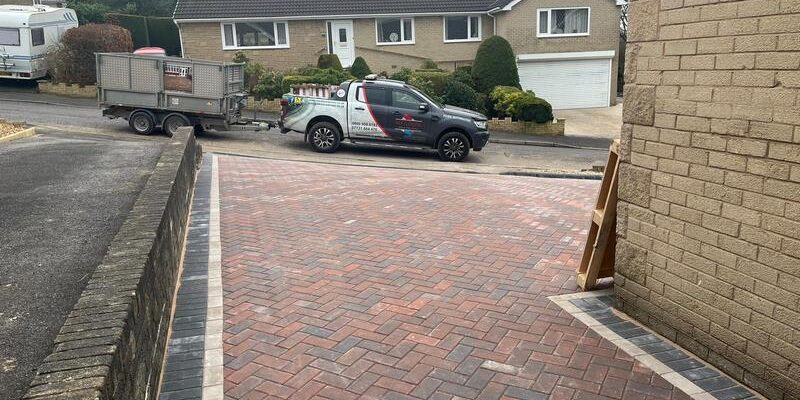 Block Paving Project in Bury
Driveways are always designed to withstand a fair amount of wear and tear over the years. However, even the most durable of substances will need to be replaced on occasion. This is when the team at Meadow Drives and Patios is here to help. We offer a wide range of services and we always make it point to take the needs of the client into account.
One highly desirable option involves the use of block paving stones as opposed to other materials such as concrete and asphalt. Before taking a look at a recent project in Bury, it is wise to quickly examine a handful of unique advantages which block paving stones will provide.
Why Choose Block Paving for your Driveway?
The most obvious answer to this question involves their visual appeal. Block paving can add a much-needed touch of class to any driveway and in many cases, it will enhance the appearance of the entire property. However, there are other advantages that might not be as apparent.
Were you aware that block paving offers an effective way to drain water from a driveway due to the tiny cracks between the stones themselves? This is quite important if you happen to reside within a low-lying area. Block paving will not suffer from cracks due to temperature changes and maintenance is straightforward. Numerous patterns can be chosen and a kaleidoscope of hues are available (important in terms of coordination and achieving a personalised sense of style). It has even been shown that block paving can add to the retail value of your home (a relevant concern if you are planning a future sale).
Now that we have taken a look at some interesting advantages associated with this type of driveway material, it is a good idea to briefly highlight a recent project undertaken in Bury.
Out with the Old and in with the New
This driveway had certainly seen better days. Not only was it suffering from mechanical damage, but the homeowner was looking for a more stunning visual solution. We recommended block paving stones and opted for a herringbone pattern (one common choice). This type of pattern added a sense of depth to the surface and it worked well with the brick exterior of the home.
Machinery and a Bit of Muscle
The team at Meadow Drives and Patios has tackled a plethora of challenging projects over the years and this recent job was no different. Due to the sheer size of the driveway, we employed modern machinery (such as excavators and handheld vibrating tampers) alongside traditional manpower. We were therefore able to remove the existing material while preparing the underlying surface for the subsequent brickwork. As always, preparation is arguably the most important stage of any project (it ultimately determines the outcome of the finished product).
Adding the Finishing Touches
Once the driveway was properly compacted and levelled, the physical upgrade could begin. Each stone is laid by hand and it takes the eye of an artisan to ensure that the pattern itself is uniform. Like many of our other completed driveways, we chose to add a stylised border around the periphery of the surface. This added a luxurious flavour and these stones help to keep the interior brickwork in place. As the driveway also bordered a nearby garden, the inclusion of a raised stone lip around this section was a great way to accentuate its presence.
Stunningly Original Results
What once appeared to represent nothing more than an outdated tarmac driveway was quickly transformed into a veritable work of art. While the effort involved with creating a block paving surface cannot be taken lightly, the results are well worth the wait. Are you curious to learn more about how we approached this project? Would you like to schedule a no-obligation appointment? Please remember that our experts can provide additional options such as decking, fencing, patios, and general landscaping. Please take a moment to contact a representative. Look no further than Meadow Patios and Drives when nothing but the best will suffice!