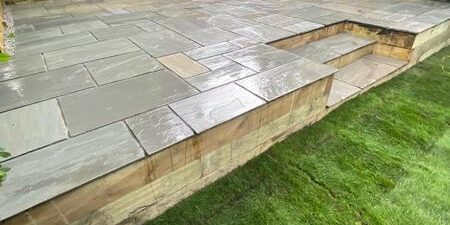 Most of us associate a patio as a structure that is attached to the exterior of a home. However, let's never fail to mention that the team at Meadow Drives and Patios is never afraid to think outside of the box. This is why we were keen to accept the challenges of a recent project in Blackburn.
A customer wished to accentuate the appearance of an existing garden through the use of a bespoke standalone patio as well as with the addition of natural sod. After an initial consultation, we jumped right in. Let us take a quick look at the types of preparation which took place as well as the final outcome.
Laying a Solid Foundation
Similar to any patio, a flat and firm foundation is crucial in order to avoid future problems. This is why we first cleared and levelled the surrounding land while clearing away any large debris. A plastic sheet and mesh were then placed atop this surface; important in terms of providing a reliable moisture barrier and to ensure proper drainage. This was followed by a pronounced border of stone slabs as well as the inclusion of a short stairway that led up to the main patio itself. well as the final outcome.
A Durable Sense of Aesthetic Appeal
Once the border was secured, we began to lay the patio surface. We chose to utilise a series of large interlocking paving stones. These are often preferred due to their ability to add a visual dimension to the patio. Their slightly varied grey hues likewise provided a singular sense of beauty that would have been nearly impossible to achieve with other materials. The final result was a highly durable surface that perfectly complimented the nearby garden.
The Finishing Touches
However, there was a bit more to this project than the patio alone. The client also wanted to add a large path of sod in order to provide unfettered access and to further beautify the garden. This sod was laid down in a series of strips and cut to meet the dimensions of the pathway. Not only is the path stunning to behold, but it provided the area with a "clean" appeal without overwhelming the natural landscape.
Needless to say, the customer was extremely happy with the final outcome. We were likewise pleased to be able to provide such a one-off solution to this Blackburn property. Of course, this is only one example of the feats which we are able to accomplish. Please take a closer look at our additional services and do not hesitate to contact us if you would like to schedule a no-obligation consultation at your convenience.