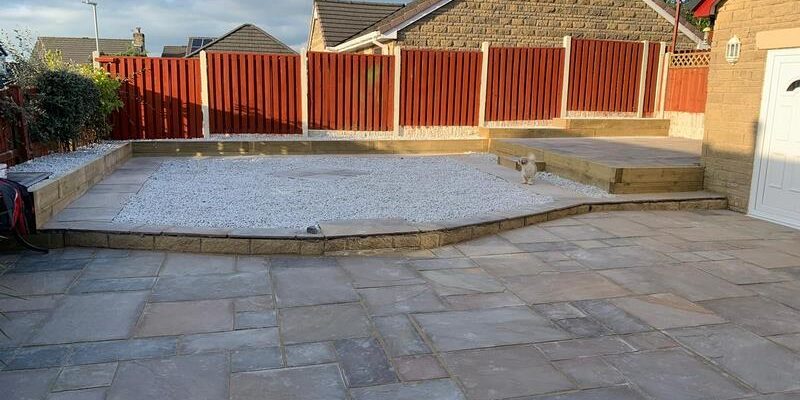 Meadow Drives and Patios possesses over 20 years of experience within the landscaping sector and our projects leave little to the imagination in terms of beauty. However, we also feel that it is important to highlight some examples of our work so that you can better appreciate what to expect when partnering with out team of professionals. A recent undertaking in Lancashire will serve to illustrate why customers continue to contact us when nothing but the bets will suffice. Let's see what is in store.
From Boring to Bold and Beautiful
While the existing driveway within this Lancashire property was certainly functional, it left much to the imagination in terms of style. It was therefore decided that the surface should be replaced with a series of block paving stones which led up to an upper patio.
As this was quite a long driveway and due to the presence of existing materials, a significant amount of preparation was involved. This included the use of machinery such as excavators as well as traditional manual labour. However, preparation is absolutely essential in order to ensure a stunning finished product.
The Luxurious Nature of Block Paving
Once the underlying surface was properly cleaned, levelled and compacted, our artisans began to work their magic. We chose to employ large paving stones for the back patio and smaller bricks for the front driveway. Not only are these extremely durable materials, but unique patterns can be chosen in order to provide customised design options. These also complimented the exterior of the home; a nice touch in terms of visual balance.
The back patio stones were framed by large wooden beams and supported by an underlying gravel surface (important for drainage). A upper patio of exposed gravel was likewise designed from scratch and we placed a series of four larger stones in its centre to resemble a diamond pattern.
As mentioned previously, smaller block paving stones were incorporated into the front driveway and they were laid out in a herringbone configuration. The grey interior stones were thereafter bordered by an alternating series of white blocks to add a bit of aesthetic class. Similar to the back patio, white diamond patterns were included at the entrance to the driveway and a larger image was placed within its centre. We often recommend such unique motifs, as they can be chosen by the customer and in many cases, no two are ever alike.
A Much-Needed Facelift
It is clear from these before-and-after pictures that the new driveway and patio engineered by our team transformed the appearance of the entire property. Are you looking to achieve similar results? If so, please take a moment to give us a call.