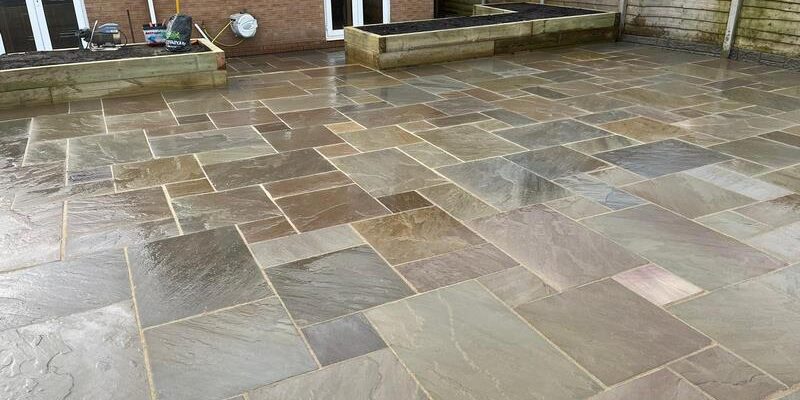 Garden Transformation in Burnley
What does it take to transform the entire appearance of a garden? If you cited attributes such as skill, talent and creating a transparent "game plan" from the beginning, you would be absolutely correct. However, another element should always factor into the equation. This involves possessing an artistic eye so that entirely personalised solutions can be offered to the client.
We were recently contacted by a homeowner in Burnley and their ultimate goal involved providing their garden with a much-needed facelift. After an in-depth consultation and discussing the various options, we began to tackle the project itself. Let's take a closer look at how the team at Meadows Drives and Patios operates so that you can better appreciate why we have become so respected throughout Lancashire.
The first step associated with any type of garden transformation always assessing the condition of the property itself. In this case, the land was primarily defined by a grass surface and a series of older cement slabs. Other elements such as stumps and roots would likewise need to be addressed during the preparatory stages. After analysing these conditions, we once again consulted with the customer.
It was decided that a more drastic change was in order. This involved the removal of all existing elements and replacing them with a series of large sandstone paving slabs. Due to the sheer size of the garden, more than a small amount of effort would be required. The good news is that as always, the team at Meadow Drives and Patios was up to the task.
Preparing the Garden
There is certainly no room for cutting corners when dealing with any type of landscaping project. This is why we devote a significant amount of time towards preparation. Here are some of the steps which were taken:
Accurately assessing the total size of the area that needed to be transformed.
Developing a realistic project timeline.
Removing the surface grass and older paving slabs.
Landscaping issues such as the extraction of roots and other elements that would hinder the installation process.
Another important stage involved ensuring that the land was flat and level. This helps to eliminate any irrigation issues such as pooling water. As you may have already imagined, this stage of the project required a fair amount of time and effort.
The Benefits of Sandstone Block Paving Slabs
Why choose sandstone slabs for a garden paving project? There are actually several reasons why this type of stone has become so popular. One factor involves its porosity. Sandstone will allow water to percolate to the underlying subsoil; ideal for areas that are prone to inclement weather. Sandstone is also relatively easier to cut when compared to other materials. Therefore, a variety of shapes are available. The visual characteristics of this stone are likewise impressive, as a plethora of different hues and tones can be selected. This enables our team to provide truly customised solutions while matching the appearance of the surface with the exterior of the home.
Installing the Slabs
We now move on to discuss the actual "meat of the project". Once all of the preparation was successfully completed, our professionals began to physically install the slabs. However, this process is slightly more complicated than it may initially appear. This primarily involves the fact that stones of different dimensions are used. This imbues a sense of depth and it helps break up what would otherwise be a rather uniform surface.
Therefore, the length and width of each slab needed to be calculated in advance. Each could therefore be fit to others similar to the way a jigsaw puzzle is completed. These slabs were then permanently installed with the help of grout between their joints. While the garden represented the lion's share of the work, other areas such as a side walkway were also addressed during this stage. Finally, we cleaned up the entire surface so that it truly took on a life of its own.
One of Many Options
We were extremely pleased with the outcome of this project and naturally, the customer was elated with the end result. However, it should be mentioned that this is only one tool within the arsenal of services that we provide to clients throughout Lancashire. We also offer:
General landscaping
Fencing
Patios and walkways
Driveways
Brickwork
Drainage and irrigation solutions
Artificial grass
We are therefore your one-size-fits-all solution in terms of sheer flexibility. Whether you have been disappointed with previous landscaping firms or you wish to enhance the functional beauty of your property, our team is only moments away. Please give us a call or use our online contact form to speak with a representative at your convenience.