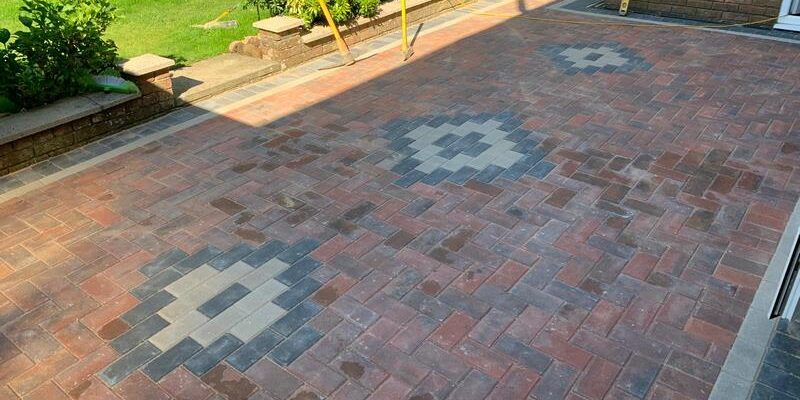 Meadow Drives and Patios is pleased to provide targeted solutions to countless residents throughout Lancashire and the surrounding areas. While our team offers numerous options, we particularly specialise in bespoke block paving. Professional block paving has the ability to completely transform a garden while simultaneously presenting a second-to-none level of functionality.
One recent project which we have completed involves a property in Burnley. We completely replaced an existing patio in order to provide the area with a truly one-of-a-kind appeal Let us take a look at this job in greater detail. You will then know what to expect when working with our trained contractors.
Out with the Old…
One unique aspect of this Burnley property involved the fact that it was virtually surrounded by old block paving slabs. Located in the front and back garden as well as along several walkways, these stones had seen their fair share of wear and tear over time. They suffered significant weathering and some had become discoloured due to the elements. We therefore completely understood why the owner wished these surfaces to be replaced with more contemporary products.
As with many garden refurbishments, a great deal of time was devoted to removing existing elements. The sheer number and size of these block paving stones required a significant amount of effort from our team. Still, this initial phase was completed in a timely fashion.
Preparatory Steps Following Removal
One of the issues that we often encounter with older patios and walkways involves the subsurface. Due to changing temperatures and precipitation over years (and even decades), the ground can become uneven. Not only will this lead to drainage problems in the future, but it is impossible to place new stones that are flat and level.
Therefore, our team carefully examined each section and levelled the surfaces as was warranted. We also had to raise the sections between walkway steps in order to support and accommodate the block paving stones that would subsequently be laid.
All About a Traditional Sense of Contemporary Beauty
One of the traits which sets Meadow Drives apart is that we imbue a sense of artistic style into each of our projects. Thankfully, the use of block paving stones provides us with a great deal of latitude in terms of the styles and designs which we are able to achieve. After thoroughly consulting with the property owner, we developed a one-of a-kind pattern so that their garden would truly stand out from the others.
We employed stones of different colours (off-white, grey and shades of red). The red bricks were used within the central portions of the paving; often reflecting a unique "herringbone" pattern in wider areas. Smaller sections (such as walkways) utilised a "runner bond" configuration (similar to the appearance of bricks within a wall). An internal border of white paving bricks was then complimented with an exterior border of grey.
Still, we took the opportunity to add a bit flavour of artistic flair into this project. As the block paving stones surrounded the periphery of the home, our artisans embedded a unique "star" pattern within several sections of the patios. This provided an unique final touch that the owner certainly appreciated.
Longevity, Durability and Style
We chose to use bricks for this block paving project for several reasons. First, their smaller size provided us with more flexibility in regards to the designs that could be accomplished. These bricks were also available in numerous tones, so it was easy to match the appearance of the home. Finally, the tight-fitting nature of smaller bricks does not require any additional mortar between the joints. The surfaces can therefore expand and contract with changing temperatures; eliminating concerns about bowing and cracking over time.
One of Many Services
This recent Burnley block paving project completely transformed the appearance of the property and the owner was quite happy with the final results. We were likewise pleased with the outcome. Not only are these stones engineered to last, but they require very little maintenance and their colours will not fade over time.
Would you like to learn more about how we approached this project? Do you wish to ask about our other areas of expertise? If so, we are more than happy to speak further or to schedule an in-depth consultation. Please take a moment to contact the team at Meadow Drives. The garden of your dreams is closer than you may think!