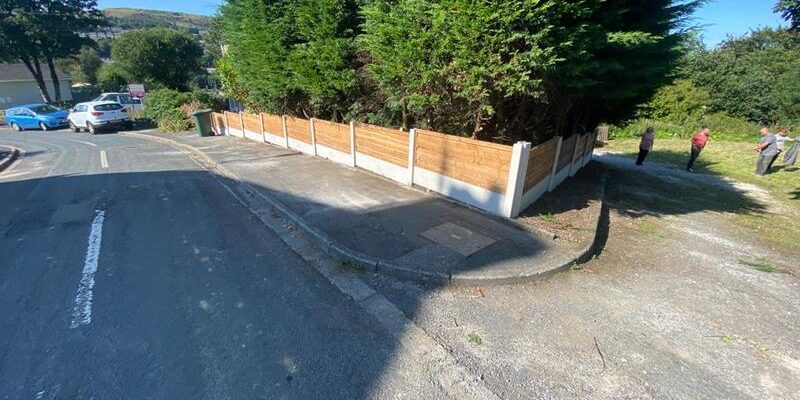 What are some of the benefits of modern fencing? While we all know that privacy concerns can be addressed, let's remember that this sense of functionality should always be complimented by a beautiful design. This is why the experts at Meadow Drives and Patios offer a number of bespoke solutions. Perhaps the best way to illustrate what is in store is to take a quick look at a recent project in Burnley. If your existing fence has seen better days, the details found below should provide a great deal of insight.
Making the Right Decision
There are many different types of fencing services offered by Meadow Drives and Patios. A handful of examples include (but are certainly not limited to):
Gravel boards
Garden gates
Trellis fences
Metal options such as chain link fencing
However, we decided to install closed-board fences around the exterior of this property. There are several advantages associated with the use of horizontal wood planks and concrete pillars. Perhaps the most obvious is the fact that this type of fencing is extremely durable and it has been engineered to stand to test of time. However, it is also aesthetically pleasing and it will not detract from the natural beauty of the property itself. The presence of wood boards likewise ensures superior levels of privacy; ideal in terms of security as well as preventing onlookers from seeing inside.
The Installation Process
As should be expected, the boundary of the property first needed to be examined. When necessary, debris was removed and certain areas were levelled. As some portions of the boundary were sloped, we likewise took the grade of the soil into account during the initial survey. This was important in order to ensure that the posts and boards would be properly installed.
We thereafter poured the cement skirting and posts; giving both the proper amount of time to cure. The horizontal boars were then slid into place. Certain portions of the fence (such as one section which connected to a domestic garden) were also provided with matching gates for easy access. Not only was this fencing much more robust than existing materials, but it provided a decidedly opulent touch to the entire property.
More Than Privacy and Restricted Access
This recent project highlights the fact that fencing can offer security in tandem with visual beauty. It is likewise a worthwhile long-term investment, as it can even add value to the property in question. Please take a moment to speak with a representative to learn more or to schedule a personalised consultation.