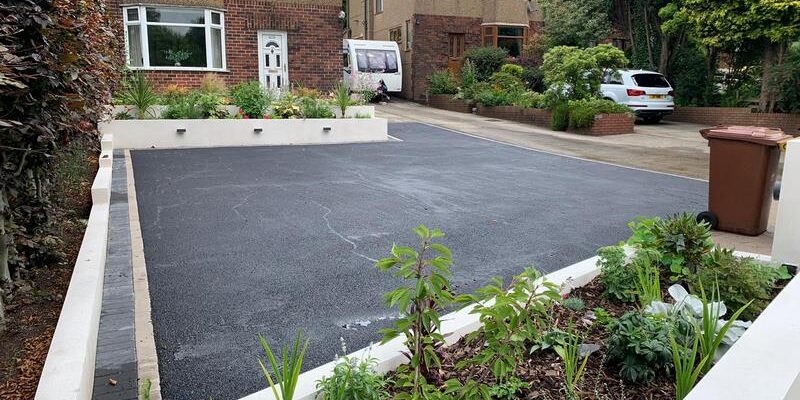 Meadow Drives and Patios has been installing quality driveways for more than 20 years and we are pleased to discuss one of our latest projects. In this case, a Burnley client wished to provide their front garden with an additional level of functionality while keeping aesthetics in mind. After an initial consultation, we decided to employ a combination of tarmac and block paving stones to achieve the desired effect. The end result was well worth the effort.
The Installation Process
After the soil was levelled and the existing debris was removed, we laid down a thin veneer of aggregate to support the final materials. However, we also wanted to punctuate the appearance of this driveway with a series of grey and white block paving stones. These were placed around the entrance and border. The tarmac mixture was thereafter applied; offering a seamlessly uniform appearance.
Why Choose Tarmac as a Driveway Paving Material?
There are several reasons why customers may choose tarmac as a driveway paving material. Here are some notable qualities to consider:
Tarmac is one of the most cost-effective paving options
The application process is simple
Tarmac is highly resistant to water and flexible; helping to mitigate the presence of cracks in the future
This substance can last for years or even decades if cared for properly
The presence of patterned block paving stones helped to further accentuate the appearance of the paved tarmac surface. The installation was straightforward and the customer was provided with an entirely new driveway in an extremely short period of time.
Continuous Quality Assurance
Of course, it should be mentioned that Meadow Drives and Patios can employ other materials when designing a driveway. Some examples include imprinted concrete, block paving stones or slabs, gravel, and resin-bound aggregate. Each of these offers its own unique set of benefits, so it is wise to speak with us to learn more.
Furthermore, each of our projects is backed up with a minimum guarantee of five years. All work is carried out in full accordance with building regulation standards and we will provide an in-depth consultation before any task begins. Whether you are looking to enhance the kerb appeal of your home or you wish to increase on-site parking space, please do not hesitate to contact one of our driveway specialists. We will be happy to help.