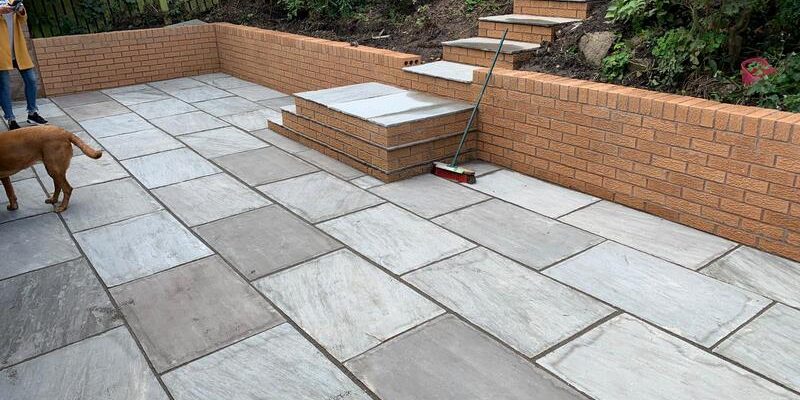 Constructing a patio from scratch requires skill and effort. Not only should such an element provide any garden with a bespoke sense of beauty, but the patio must be able to work in synergy with the home itself. This is why planning is arguably the most important concern for the team at Meadow Drives and Patios. This project was also unique in the fact that we were forced to negotiate with uneven terrain. Thus, the presence of a retaining wall that doubled as an enclosure was necessary. We are very proud of the ultimate outcome and if you would like to learn more about we are your go-to source for quality solutions, the information below should come in handy.
From the Ground Up
We first consulted with the client to better understand their desires. It was then important to survey the garden in question, as we were then able to determine the approach itself. In this case, it was clear from the beginning that the presence of a retaining wall would be necessary. We likewise included a series of matching steps to provide unfettered access to raised sections of the garden that were located immediately behind the patio. Once the layout was clarified, the real work was able to begin.
Quality Materials to Achieve a Stunning Outcome
Once the subsoil was levelled, we chose to line the inner patio with a wall consisting of core-holed bricks (this helps to reduce the weight of the wall without compromising its integrity). An outer wall of solid blocks provided additional strength. After completing this stage, we began to lay the inner patio tiles. We chose to employ larger stone slabs in order to provide an additional illusion of space while simultaneously guaranteeing a one-of-a-kind design. These very same stones were used to create the patio steps.
Although this patio is not nearly as large as some of the other projects which we have completed, style and design are the most important metrics to determine overall quality. Not only does this enclosure provide the garden with a stunning overall appearance, but it makes the most out of the available space.
This only one example of the feats that the team at Meadow Drives and Patios can accomplish. If you wish to discover additional possibilities, please fill out our online contact form. A representative will be in touch shortly to discuss your options.