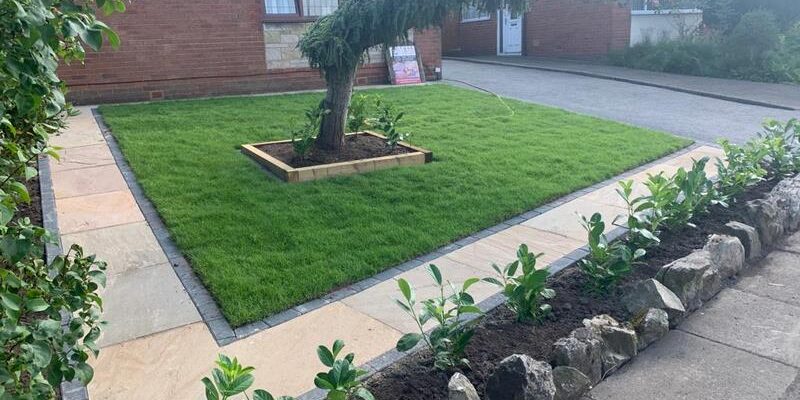 Quality Front Garden Landscaping in Lancashire
Meadow Drives and Patios is known for our flexibility as well as our willingness to handle tasks of all sizes. Some represent smaller projects while others are designed to literally transform the appearance of a home. One perfect example of this latter approach can be seen in a recent project for a client located in Lancashire. Not only did we provide the front garden with what can only be called a much-needed facelift, but we installed an entirely new driveway during this very same time period. In order to fully appreciate what you can expect when working with our team, it is a good idea to examine the step-by-step approaches that we took so that a stunning outcome could be guaranteed.
Preliminary Stages: Speaking with the Customer
We should first make it a point to mention that every customer has different desires. This is why we always schedule a preliminary consultation. After appreciating what he or she requires, we can then provide an accurate estimate in regards to cost as well as predicted completion time. We firmly believe that developing this sense of transparency at an early stage is the key to success. Also, the customer will know what to expect in advance; helping to ensure that disruption is kept to a minimum.
The Removal of Existing Materials
This project required a fair amount of preparatory work due to the sheer volume of materials that needed to be removed. We therefore chose to use a small excavator as well as a separate truck to haul away debris. Our team removed many large shrubs as and considerable amount of rubble from the front garden. This was obviously important in order to create a flat and level surface before the next stages of the project could be tackled.
However, we were careful to leave certain elements intact. These included a series of upright stones which had already been placed around the front of the property as well as a somewhat large shrub located in the centre of the garden. We would instead compliment these areas with a handful of professional landscaping tricks (more on this later).
Driveway Paving
One of the reasons why Meadow Drives and Patios is known for our efficiency involves the fact that our employees bring numerous skills to the table. In the case of this Lancashire project, this versatility enabled one team to focus upon the front garden while another repaved a nearby driveway with multiple coatings of asphalt. Asphalt is a hard-wearing material that can stand up to years of abuse while ensuring proper drainage. Also, it is one of the most cost-effective paving options on the market. It therefore makes the ideal choice for anyone who is worried about their expenses. Let's finally not forget to mention that the addition of a new driveway always helps to compliment any professional landscaping work.
Creating a Border Around the Front Garden
Quality landscaping is all about the finer details. Not only can elements such as stone paths and walkways help to accentuate the appearance of a property, but they provide it with an entirely unique touch that would never be possible when using more generic approaches. For this Lancashire front garden, we chose to employ light-coloured slabs that were bordered by dark bricks. This pattern provided a nice visual touch and it helped to break up the appearance of the plot. Of course, the walkway can likewise be used to access the garden and to care for the nearby plants that are found around its periphery.
Laying Down the Sod
One of the issues with the previous garden was that very little grass was present. The ground was instead covered by layers of wood chips. Also, the shrubs that surrounded the borders gave the entire area a rather confined characteristic while some even blocked views of the nearby road. As mentioned earlier, we removed the majority of the shrubs and all of the existing elements found upon the ground. This enabled us to lay down sections of natural sod; brightening up the entire area within a matter of hours.
There are several reasons why we often work with sod during a landscaping project. First and foremost, this grass have been engineered to survive in all types of common soils. Sod is very easy to maintain and it helps to provide a natural drainage solution. Issues such as erosion and pooling water can therefore be eliminated. On a final note, sod offers an organic appeal that can work in synergy with shrubs, bushes and other objects.
A Bit of Manicuring
One interesting feature of this Lancashire garden was a series of stones that had been placed in an upright position around its frontal property border. As opposed to simply removing these stones, we allowed them to remain. Our team then chose to plant a handful of small shrubs behind the rocks; creating a "garden-within-a-garden" effect. In terms of the central tree, we provided it with a square border that matched the configuration of the large stone pathway found around the periphery of the sod.
Another Satisfied Customer
Although this project required a significant amount of labour, there is no doubt that the outcome was worth the effort. The customer was extremely pleased with the results and we were equally happy with such a profound transformation.
This is only one example of the numerous projects which have already been tackled by the team at Meadow Drives and Patios. Would you like to learn more about our services? Do you wish to schedule an in-depth consultation? If so, please take a few moments to contact us directly.