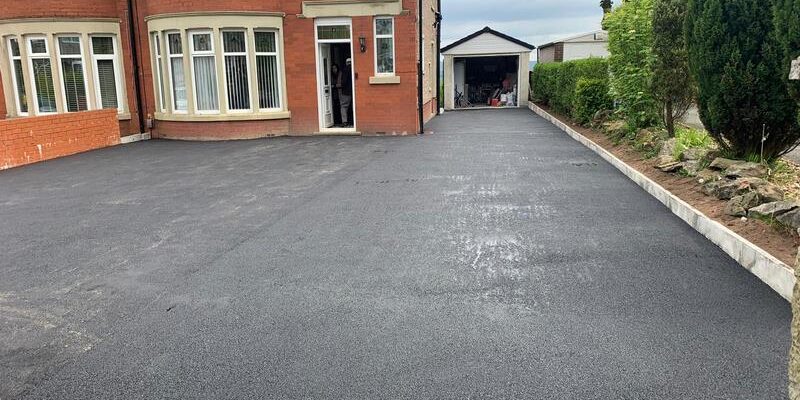 Tarmac Driveway in Nelson Lancashire
A customer in Nelson, Lancashire recently got in contact with our team at Meadow Drives and Patios, asking us to install a brand new tarmac driveway. At their substantial semi-detached home, the existing outside space consisted of a grassy area and old tarmac driveway which looked dated and messy. Based on our excellent local reputation in the Lancashire region, the customer had decided they wanted to give their home a refresh and add value to their property at the same time.
Our landscapers began by digging up and removing the old driveway surface and grassed area using an excavator and finished by hand. After clearing the large area, we installed a high-grade membrane to prevent weed growth. This covered the area to the front of the house, but also down the side leading up to the garage. Next, we laid edging on a sand and cement base before then laying the sub-base. This was then compacted using a machine before we laid the tarmac driveway covering.
The result was a fantastic looking driveway which was not only aesthetically pleasing but also super practical too. It's most certainly increased the kerb appeal of the street and the new driveway in Nelson, Lancashire has become the envy of all of the neighbours.