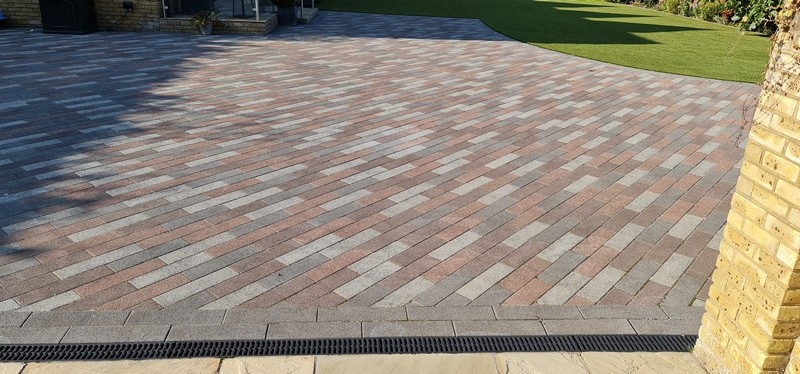 Are you looking for a stylish upgrade for your old driveway? While tarmac and concrete are long-lasting, they can often leave your property with an unfinished or rough look. Block paving, however, is a fantastic way of giving your home a timeless and long-lasting appeal without sacrificing durability.
Every installation of block paving is unique. With a bespoke design that suits the size and shape of your property, the almost endless variety of patterns and colours available means that your design will perfectly match the existing aesthetic style of your home.
More Than Just A Pretty Face
Thanks to the variety of ways that bricks can be fitted together, the designs available are almost limitless, including traditional brick stacking, interlocking herringbone, basketweave, and even more intricate designs. This adaptability also allows for many different shapes to be made, including serpentine paths and curved driveways.
Stone is a naturally occurring material that can last for just as long, if not longer, than many man-made solutions. Providing natural drainage, block paving prevents any standing water that often occurs with concrete or tarmac, preventing flooding or additional damage to your path or driveway. Because of this, block paving requires little to no additional maintenance over its lifespan, except for occasional reapplications of sealant to prevent weeds from growing between the bricks.
The diversity of colours available for your block paving design also allows for a kaleidoscope of different patterns, making your driveway unique and bespoke to your home and personal taste.
Contact Meadow Drives and Patios
Are you looking to install a new patio for your garden redesign? Or are you simply looking for a way to refresh and refurbish your pre-existing paths and driveways? Meadow Drives and Patios is here to help, offering a variety of adaptable design options to create a unique and timeless look for your property.
No matter if you live in Accrington, Blackburn, or Bury, we offer our installation services across the wide area of Lancashire, Manchester, and Cheshire. Contact us today to find out more about our competitively priced block paving solutions, or by emailing us at info@meadowdrives.co.uk. We look forward to working together with you!